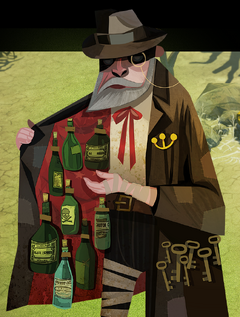 Flimflam is a man who Scout meets on her travels. In Campaign Mode he is encountered when Scout reaches Higher Ground, the source of the radio signal. He will offer to trade with Scout, should she want to.
Flimflam's dialogue is different in Campaign Mode and Endless Mode.
Campaign Mode
Edit
Flimflam: Well met, friend!
Flimflam's the name! Barter's my game.
Now, y'look like a rugged sort. Self-sufficient an' able
But we all need help from time-to-time.
No shame admitting that, is there?

Scout: Suppose not.
Flimflam: Now, seasoned traveler such as yerself?
Y'know how the cold can stab your bones at night.
Least, if you lack the right accoutrements.
Scout: ...
Flimflam: Got me this here:
(RANDOM ITEM)
Be inclined to trade up. Say, in exchange for:
(RANDOM ITEM)
Scout:
Flimflam: How about that:
(RANDOM ITEM)
for a:
(RANDOM ITEM)
Seem fair to you?
Flimflam: Hmm... What I got left?
Here's a:
(RANDOM ITEM)
I'd trade for a:
(RANDOM ITEM)
Flimflam: Already ran through my full stock!
Some other time, then. Perhaps when yer better outfitted...
Remember: FLIMFLAM - Favorable trades y'can rely on!
Scout: Best be moving on.
Flimflam: Oh, a live one!
Be off, you rascal! If y' ain't heard, I'll tell ya for free:
Nobody gets a leg up on FLIMFLAM!
Scout: Best be off.
AFTER SCOUT ACTIVATES THE RELAY
Flimflam: Everything's hummin' along! Now, what're them folks on the radio sayin'?
These fine goods ain't gonna trade themselves.
Where these rubes -- I mean, upstandin' citizens -- at?
Scout: Sounds like... Angel Yard?
Flimflam: Heard some tell of it... Mixed reports.
Something about "deliverance," people bein' lifted away.
Bunch of hooey, you ask me. When folks tell stories, they's mostly just lyin'.
Even when there's no call for it!
Know it myself, first-hand. Say! That reminds me...
Can I interest you in a trade?
Scout: Sounds agreeable.
Flimflam: Got me this here
(RANDOM ITEM)
Give it to you for a
(RANDOM ITEM)
What say you to that?
Scout:
Flimflam: Why a comment like that impugns my character...
Ain't you heard: FLIM FLAM - Fair dealin', seldom stealin'!
Scout: Be seeing you.
Endless Mode
Edit
Flimflam: Salutations friend!
Flimflam's the name! Fair deals 're my fame.
Let's talk turkey. Got me this sayin':
Forearmed and well-armed.
Know why?
...
Community content is available under
CC-BY-SA
unless otherwise noted.