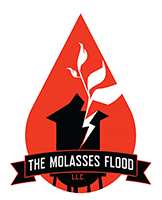 The Molasses Flood is an independent game studio located in the Boston suburb of Cambridge. It is contrived of six people who worked on previous games including BioShock, Guitar Hero, Halo 2 and Rock Band. The name comes from a piece of the Boston history known as The Great Molasses Flood, aka The Boston Molasses Disaster of 1919. 
The studio idea was started by Art Director, Scott "Sinc" Sinclair and Designer Forrest Dowling, both previously from Irrational Games. They recruited four more individuals: Chad LaClair, Gwen Fry, Bryn Bennett and Damian Isla before deciding on a name. Flame in the Flood was born out of early conversations between Dowling and Sinclair with Dowling ready to try something different. Sinclair was interested in controlling 'little ecologies" which fit right in to Dowling's recent love of survival games. The studio is self funded. They chose the kickstarter plan to remove all conflicts of interest and allow them to work directly for the fans. 

Scott Sinclair Director/Art/Founder
Sinc is a director and artist. His previous experience includes Art Director for BioShock and BioShock Infinite, Primary Artist for Guitar Hero, Eyetoy Anti-Grav, Rock Band 2, as well as Art Lead on Freedom Force vs. the Third Reich. He's also the resident survival and wilderness living expert, having grown up in a swamp in Florida (as he tells it).
Forrest Dowling Ceo/Design/Founder 

Forrest is a director and designer whose previous work includes Lead Level Designer on BioShock Infinite and Designer on Homefront. Prior to his career in games, he was a hobbyist mod maker, and is pret-ty psyched to be working with a small team again.
Bryn Bennett Mathrock/Tech/Founder

Bryn is an engineer who was previously Tech Director on Freedom Force 2, Lead Engineer on Titan Quest, and Engineer on numerous iterations of Rock Band. He's also a legit rock star, having fronted Bang Camaro on national tours, and played on stage on Conan O'Brien.
Chad LaClair Art/Design/Founder
Chad is an artist and designer, previously credited as Senior Level Builder on BioShock Infinite and Designer on Medal of Honor: Airborne. Although a Vermont native, he has confessed that if he were left alone in the woods, he would die of something (anything) within minutes.
Damian Isla Mastermind/Tech/Founder
Damian is an engineer whose prior credits include Co-Founder and President of indie studio Moonshot Games, Creative Director on Third Eye Crime, AI Lead on Halo 2 and 3, and Senior AI Engineer on BioShock Infinite. The best way to motivate him is to tell him that a task is impossible, which he takes as a personal affront to his capabilities.
Gwen Frey Risky Business/Art/Founder
Gwen is an animator, technical artist, and producer. Her previous titles were Senior Technical Animator on BioShock Infinite and Marvel Heroes. She's all business, so there will be no screwing around with this bio.
External links
Edit
Community content is available under
CC-BY-SA
unless otherwise noted.